Dairy Science College, Gulbarga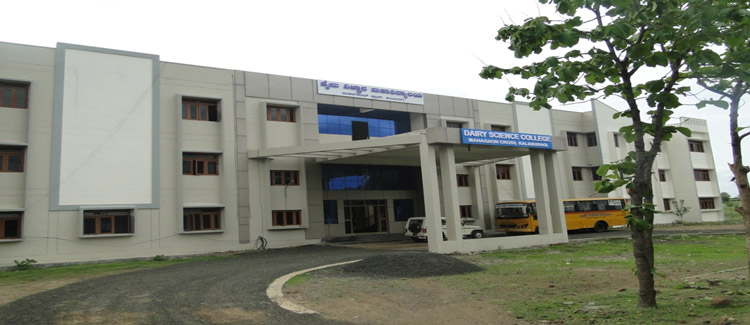 The College commenced functioning in the year 2008 with the objective of catering to the manpower need of the dairy and food processing industries in the country. In the last decade the Institute has made progress in multiple dimensions, with the support of Government of Karnataka. Presently, this College is one among the best Dairy Science Colleges in the country and one of the regional Dairy Science College. The college has to be accredited by ICAR, New Delhi for financial and academic support. The College is located at Mahagaon Cross, Kalaburagi 30 KM from the city on NH 50. The College considers it important that the practical training should be as exhaustive as possible so that the students can have solid foundation in the vast field of Engineering and Technology. Therefore, Practical training is imparted to create foundation for acquiring knowledge and competence, understand organization of engineering activities and develop ability to organize and give directions to others for achieving the targets.
The College comprises of five Departments namely, Dairy Technology, Dairy Chemistry, Dairy Microbiology, Dairy Engineering and Dairy Business Management.
Mission
The mission statement of Dairy Science College, Gulbarga is to strive hard and provide leadership in teaching, research and extension education services related to Dairy and Food Sciences and to keep pace with new frontier of science and contemporary developments to be socially and technically relevant. In this context the faculty is strongly committed in absorbing newer paradigms and using them to develop excellent human resources, innovative technologies and their dissemination so as to serve the man kind through rural oriented farmer friendly approaches in Dairy and Food sector.
Vision
Improve the level of teaching to meet the growing demand for quality manpower in the market. To elevate the level of teaching to international standards to produce students of international standards. Improve the teaching methods and Faculty competence through a system of skill up gradation. To have faculty of the highest competence in research with international exposure through global exchange programmes, participation in international workshops and seminars, etc.