Veterinary College, Hassan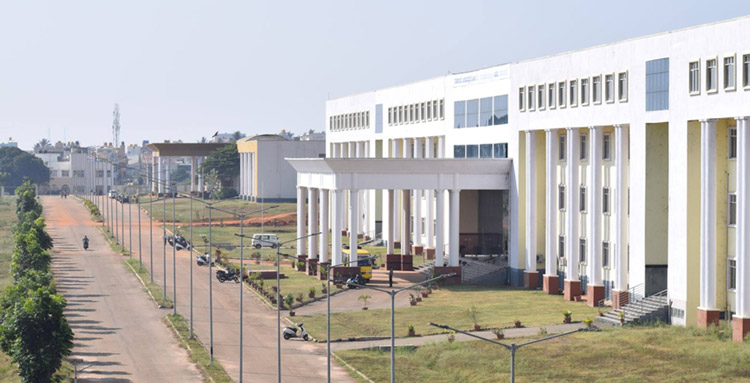 Veterinary College, Hassan (HVC), emerged as the fourth constituent Veterinary College of KVAFSU, Bidar on 16th August 2007.  The HVC is located at the fringes of Hassan city, sprawling across about 80 acres the beautiful campus of HVC has been blessed with fertile soil, lakes, counters and farm land. Magnificent main building has been one of the unique government structures of the district coupled with an adjacent state-of-the art Veterinary Hospital. The beautiful campus of HVC has hostels (boys and girls), well equipped sports complex with pavilion for indoor and outdoor games including multi-gym facility, livestock farms, residential quarters and guest house buildings.
The college renders Teaching, Research and Extension services as per the directions of the university and has testimonial contributions in the area of human resource development in the Malenadu region of the state. The mission of the college is to cater Rural Oriented and Farmer Friendly services for the betterment of the farming community. The dedicated faculty of the HVC endeavour to develop leadership in academics, research and extension education services related to the veterinary and animal sciences. In establishing path-breaking milestones over the decade, the college has instrumentally kept pace with new frontiers and horizons of innovations in the area science, technology and human resource development relevant to the society.
The college offers undergraduate B.V.Sc. & A.H. degree programme as per Veterinary Council of India (VCI) standards. The HVC has 18 departments and equipped laboratories to meet the requirements of the minimum standards of veterinary education (MSVE). In addition post-graduate (M.V.Sc.) degree programme is also offered in seven departments in accordance with the ICAR guidelines. Student-centric facilities include ICT enabled class rooms, seminar halls, round table conference halls, computer facilities, examination halls, library facility with online sources, ultra-modern treatment facility for large/small/wild animals, in-patient animal facilities, bus, ambulatory van, etc portray the strength of the college in rendering quality education to students by the qualified and experienced faculty.