Registrar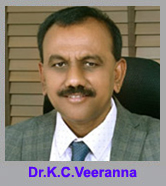 Dr. K.C Veerannaa
M.V.Sc., Ph.D
Name:     Dr. K.C Veeranna
Address:  Registrar, Karnataka Veterinary, Animal and Fisheries Sciences University,
               Bidar, Karnataka
Phone: (O) 08482-245241, 08482-200223 (Direct)
Fax: 08482-245241/107
Email: regkvafsu@gmail.com
Dr. K. C. Veeranna (B.V.Sc & A.H., M.V.Sc., Ph.D., PGDEE) has assumed the charge of Registrar, Karnataka Veterinary, Animal and Fisheries Sciences University, Bidar, Karnataka on 31.05.2019 for a tenure of four years. He is involved in undergraduate and post graduate teaching, research and extension for more than 28 years in the discipline of Veterinary and Animal Husbandry Extension Education in the capacity of Instructor, Assistant Professor, Associate Professor and Professor & Head. He has guided 13 M.V.Sc students and Advisory committee members for more than 50 M.V.Sc and 03 Ph.D. students. Before joining this post, he has served as Officer on Special Duty, Veterinary College, Gadag and Dean, Veterinary College, Shivamogga and has been very instrumental in planning, designing and furnishing of facilities for the laboratories, infrastructures etc. as per VCI and ICAR regulations. As a researcher, he was Principal Investigator (PI) for three externally funded Projects which include the funding support from KWDP II - Sujala III Project, ICAR-NAIP and DBT, New Delhi. Further, he has also operated four university funded projects and has been Co-PI for several projects. He has also been Nodal Officer for KWDP-II; Sujala-III Project for KVAFSU, Bidar and NSS Coordinator, KVAFSU Bidar. As an extension professional, he has organized/coordinated two national conferences, 30 training programmes for the officers of the line Departments, 150 trainings to farmers, five livestock shows and more than 100 on-farm demonstrations. Also, he has participated as a resource person in various extension activities organized by other organizations. He has published 67 research papers in high quality national and international journals apart from about 70 Papers presented in National / International seminars/conferences, 120 Popular articles / Leaflets / Bulletins and five books.
Awards:
State NSS Award by Ministry of Youth and sports, Govt. of Karnataka in the year 2000.
Leelavathi Krishna Rao Award by Indian Veterinary Association in the year 2000.
Certificate of Merit by KVAFSU, Bidar in 2010, 2011 and 2016.
Best Paper presentation Awards by different professional societies and organizations in 2010, 2013, 2016, 2017 and 2018.
Best Veterinarian Award by Karnataka Veterinary Association in 2014.