Vice-Chancellor's Desk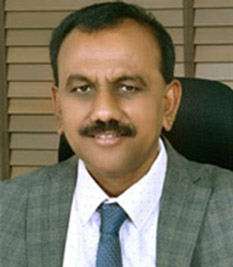 Dr. H. D. Narayanaswamy
It gives me great pleasure to recognize that our University is progressing well in all its three major missions namely, Teaching, Research and Extension. Taking the queue from the ICAR's Farmer First concern, our University is making all efforts to empower the farmer with animal husbandry technologies. In this direction, our University has published 31 farmer literature books in Kannada highlighting most of the animal husbandry technologies which a farmer can easily understand and what's more each book is priced at only Rs. 20/-! so that a farmer can easily afford. I am happy to state that these books are in popular demand at all the centers of our university. Moreover, Hyderabad-Karnataka Area Development Board, Kalaburagi has placed an order for 38000 copies of the same for distribution among Gram Panchayat Libraries of six districts namely, Bidar, Kalaburagi, Yadgiri, Raichur, Ballari and Koppal. We are in the process of reprinting the same. It is gratifying to note that the farmer literature books are reaching the hands of farmers in remote villages of these districts.
I am also happy that our University has successfully organized a grand State Level Mathsya Mela-2016 during 4-6 March, 2016 at Mangaluru which was witnessed by nearly one lakh people. The exhibition showcased technologies of Shrimp farming, Cage culture, Commercial fish culture etc., by various central and state organizations. The star attraction of the event was the display of more than 100 attractive aquariums of both traditional and modern designs. During the fair, fabrication of nature aquariums was demonstrated by experts. An angling competition was also held for enthusiastic fish anglers at Pillikula Lake.
An Interface Meet between the Scientists of ICAR-Indian Veterinary Research Institute and Veterinary College, Bidar was organized with the Veterinary Officers of Department of Animal Husbandry from Bidar and adjoining districts of Karnataka State on 26th July 2016 at Bidar. Our university organized an animal health camp-cum-Kisan Goshthi in collaboration with IVRI, Pune; Krishi Vigyan Kendra; Reliance Foundation and Gurupadappa Nagamarapalli Foundation in Gadagi village of Bidar district of Karnataka on 27th July, 2016. More than 500 cattle were treated for various diseases including a surgery performed on the spot during the Animal Health Camp. On this occasion 30 progressive farmers in animal husbandry and dairy technology were also felicitated. 
The pride of our University lies in the service extended to our farmers in the form of saving the lives of valuable animals through surgeries at all the campuses of our University. Another feather in our cap is the execution of World Bank aided KWDP-Sujala-III project in seven backward districts namely, Bidar, Kalaburagi, Yadgiri, Gadag, Chamrajnagar, Davanagere and Koppal through livestock support and extension activities in farmers' fields itself. These success stories are becoming the "Hot Spots" and are serving as the inspiration for other farmers to adapt.
Hope that more and more such farmer oriented extension programmes and research activities will be undertaken in the coming days to solve the burning issues of the animal husbandry, dairy and fisheries sectors.
Sd/-
(Dr H. D. Narayanaswamy)
Vice-Chancellor
Place:
Bidar